Testimonials
Submit Your Testimonial
Dr Grant Garcia is the best!! He fixed both my shoulders, repaired another surgeon's mistakes. I would be disabled had it not been for his outstanding skills.
~Vickie B.
This was truly a life changing experience. I am an avid partner dancer and runner (and the dad to an 11 year old boy and 15 year old girl). I need to be able to move without pain. My knee was getting worse and I knew something had to be done. When I met Dr. Garcia I immediately had confidence in his abilities and diagnosis. He told me what he knew and gave me options. I never felt pushed into doing it, but given the facts and was able to make the decision. I am so glad I decided to do it. My knee is so much better now, and I can now do all my activities without pain. It's wonderful. The entire staff was excellent. I always felt taken care of. The procedure itself went perfectly and surprisingly with relatively little pain. I highly recommend Dr. Garcia!
~Anonymous.
Check out my recent patient testimonial after patellofemoral replacement
Dr. Grant was amazing. I had a cartilage transplant on my knee and he was very transparent/answered any questions I had throughout the process. I'm now ahead of my recovery schedule and back living an active lifestyle! (Skiing, running, basketball etc).
~Jim W.
The new repair procedure of MY ACL ligament was amazing. The recovery time was 5x faster than my previous graft on my other knee. Looks like I will be skiing this season!
~Greg B.
Meniscus transplants are a unique procedure and if done well can make a significant difference in patients outcomes especially in those with multiple failed ACLs and medial knee pain. It is unfortunate that many of my potential transplant candidates are told that these surgeries "don't work" by their first opinion surgeon who likely has no experience with these procedures. If done poorly many surgeries don't "do well", this is one of the more complicated procedures that sports surgeons do. You need to understand the indications, the procedure and be able to execute it, if you want success. I am continuing to educate my patients that in the right scenario, meniscus transplants can dramatically improve quality of life.
This is a recent testimonial of a 29 year old patient with 2 failed ACLs, no medial meniscus with pain and instability, that we did a revision ACL and medial meniscus transplant. See for yourself below if you think this procedure works.
The UCL internal brace procedure has been a game changer in my practice for high level throwing athletes. The main issues have been its underutilized in other athletes who also can't get back to sports because of UCL elbow instability. I still treat a number of recreational athletes with nonoperative treatments but remember don't be a cookie cutter surgeon. Each patient is different and each sport requires a different approach. If you listen to your patients, you will make the right decision whether they need surgery or not. This is a former athlete I operated on with a UCL tear, continued pain and instability who wanted to get back to high-level jiujitsu without a reconstruction. She continues to impress me even 4 years out from the surgery with her athletic feats! This not only shows the success of the procedure but its longevity.
From Patient:
Hello Dr. Garcia,
I just wanted to update you since you repaired my UCL and placed an internal brace back in 2018. I train Brazilian Jiu Jitsu, and just recently won the Brazilian World Master's division in Las Vegas for purple belt! I've attached some pictures, and thank you again for helping continue towards my athletic goals, evening now at age 41! I have been training for a total of 6.5 years, and just received my brown belt at this tournament. If all goes well and God continues to bless me and keep me healthy, I hope to achieve my black belt (last of 5 belts) in a couple more years! Thank you again.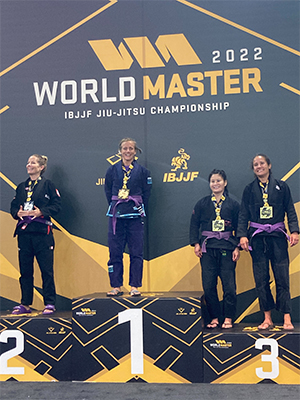 Grant H. Garcia, MD I think it's the season! Summited Rainier as well 2 weeks ago! And the shoulder held up amazingly… even after a little fall
My job as a sports orthopedic surgeon is to help my patients return to the sports and activities they love. Images and videos of my patients getting back to their hobbies are the highlights of my day. Check out this message I received from someone I did shoulder surgery on 2 years ago. Another patient of mine summiting Mount Rainier. This is no easy feat!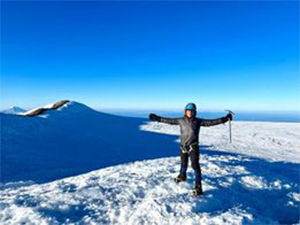 "One VERY satisfied client!!" – KC
Just got this message from my patient that I did a posterolateral corner reconstruction, MCL reconstruction and ACL reconstruction, 3 years ago. Always fun to get these videos of patients getting back to the sports they love.
Check out this video testimonial after MPFL reconstruction for patella dislocations.
Check out our recent video testimonial after the MACI procedure for a cartilage defect of the knee.
Bedside manner was very comforting, the surgery itself was quick and the recovery was amazing. I was back to gymnastics in no time at all!!
~Camille R.
My son had a torn labrum and other injuries to his shoulder from baseball. Dr. Garcia performed surgery a year ago. We can't say enough good things about Dr. Garcia. He is patient, calm, knowledgeable, supportive and knows his stuff. He made a difficult time much easier for the whole family. We highly recommend Dr. Garcia!
~Anonymous.
Dr Garcia operated on my knee following a traumatic fall. I am an active 58 yr old who has never had a serious injury. Dr Garcia gave me back full mobility and I am able to get back to biking, hiking and swimming. He has a terrific bedside manner and is an outstanding surgeon. I am an experienced health care provider and recognize outstanding care which he exemplified. It wasn't an easy recovery and he prepared me for that. I would totally recommend Dr Garcia.
~Catherine DS.
Dr. Garcia is an amazing doctor. I am so thankful he was able to fix my shoulder tear. I am also incredibly thankful that he was just so kind.
Thank you!!!
~Drake G.
Just got this note from my patient, 4 months out after Quad ACL surgery with internal brace at the summit of Mt Rainier. An incredibly challenging climb for the average person with two normal knees! These stories are so encouraging and are what keep me motivated to help others!
My knee felt strong and stable! The brace also helped so much just with confidence. I have the usual post physical activity soreness and my face is burnt, but otherwise feeling amazing.
4 months post op…never thought I'd be here!
~B. Biedenbender.
Dr Garcia provided exceptional care for my 15 year old son, an athlete with chronic patellar instability, from pre op education to postop checkups. I was nervous for my son to have MPFL reconstruction however Garcia's experience with this surgery and young athletes specifically was reassuring. I felt my son was in good hands the whole time and the end result was worth it. He is back on the pitch! Side note- his medical assistant, Alyssa, was also exceptional.
~S. Wipf.
Check out our recent patient after cartilage and meniscus transplant and 4th time ACL reconstruction.
Dr. Garcia is one of the most compassionate, supporting and energetic surgeons I've ever met. He was so understanding and patient with my anxiety disorder and always made me feel confident in whatever decision I made. I'm now 5 months out of knee surgery and couldn't be happier with my results.
~Brianna H.
Dr. Garcia and his staff were great to work with. I went to him based on the recommendation from my primary care doctor after I suffered multiple tears on my meniscus and a torn ACL. Dr. Garcia was very knowledgeable and discussed several options for the ACL graft given my history of patella pain and my desire to continue with my active lifestyle. After deciding, the surgery went great and 9 months later I'm cleared to get back to all my usual activities! Dr. Garcia and his staff were also extremely helpful with after care when dealing with insurance for the physical therapy I needed.
~Sky L.
Check out our video testimonial after high tibial osteotomy.
Highly recommend Dr. Garcia. Complete hamstring avulsion (all three heads) due to hockey injury. 6 months later I'm back on the ice – as good as new.
~JB.
Check out our recent testimonial after ACL, Meniscus and Cartilage Transplant
69 year old man with rotator cuff tear / bicep tendon issue. 4 small insertion points in my right shoulder., surgery went as expected. Dr Garcia explained the procedure benefits / risks in detail before the surgery and fielded all my questions and concerns. 4 months post-op and I could not be more pleased with the results. PT at 2* weekly for the first 8 weeks, now 1* per week on continued strengthening / flexibility and will be at full recovery in another 6 weeks. Thank you Dr Garcia, appreciate your expertise and professionalism!
~Steve O.
After years of dislocating my knee and experiencing pain/grinding under my kneecap I was referred to Dr. Garcia. At that point I had damaged the cartilage and required surgery. Luckily I was a candidate for the MACI procedure and Dr. G was able to fully replace the cartilage and correct my knee with a TTO. I fully recommend Dr. Garcia to anyone who is having a sports medicine issue. He was comforting every step of the way, and answered all of my questions. He not only wants to help but also considers the quality of your life years after the surgery and will help you pick the best option for healing. My fiance had a TTO roughly 10 years ago and has mentioned that our recoveries were completely different. Mine was much quicker and less debilitating. By the time I was off crutches I had no trouble walking around. I truly believe this is because Dr. Garcia is willing to use the latest and best methods to help his patients. Thanks to him I will not be getting early arthritis and I can still do all of the activities I love.
~Kate M.
I can't say enough about how incredible my experience was with Dr. Garcia. Before recommending an MRI he had my injury figured out within a matter of minutes. He actually said he didn't want to do surgery and recommended physical therapy as an alternative. Eventually I made my shoulder worse by boogie boarding in Hawaii and surgery was the next step. I got the MRI in house, and then surgery a couple months later. Dr. Garcia made the entire process so easy, and gave me a 5-6 month post-surgery recovery for my SLAP tear. My physical therapist was shocked at how quickly I actually recovered, and my shoulder has more mobility and strength at 6 months post-op than I did before the injury.
~Loomis H.
Check out our recent testimonial after Meniscal Root Repair.
From the very first visit I could tell Dr. Garcia was at the top of his game. He discussed my options in a calm, confident manner, and didn't immediately jump to recommending surgery for my recent shoulder injury – instead offering a clear course of action to try to rehabilitate with PT and exercise. Months later, I re-injured the same joint, and he once again clearly explained my situation, this time strongly encouraging surgery to prevent further injury. At this point, I consulted several other top orthopedists in Seattle, who all offered different, and more conservative plans of action. After heavy research, I was confident that Dr. Garcia's recommendation was the right plan for the best chance of full recovery and capability. The surgery was a challenging one that only a skilled and confident surgeon would even attempt…and it went flawlessly. My recovery has gone exactly to plan, and I now have full use of my shoulder, with zero hesitation or fear about re-injuring. I strongly recommend Dr. Garcia, and though I hope I don't need an orthopedist anytime soon – he will be the first to call if I do.
~Marc St R.
I had the pleasure of being recommended to Dr. Grant Garcia after years of wear and tear on my left knee Left me with two meniscus tears. My knee was painful, swelling, clicking, and locking up regularly after just minor activity. Dr. Garcia was very patient with me and explained all my options and the risks. I am 51 and fairly active so I opted for a meniscectomy. The surgery was successful and seven weeks later, I'm able to play beach volleyball, walk 5 plus miles, go up and down stairs easily, and go about my daily life without the knee pain. I appreciated being able to refer to Dr. Garcia's website for pt exercises immediately following surgery. I also felt like all communications after my initial meeting with Dr. Garcia was exceptional. A sincere thank you to Dr. Garcia & the staff at OSS!!
~Kimberly F.
Dr. Garcia was amazing. He and his staff made every step of the process okay and made sure we understood what to expect. He will forever be our go to.
~Hope M.
In 2003 I had an ACL replacement and meniscus surgery from another surgeon which did not go so well. After 15 years or more of serious knee problems I was finally able to schedule another surgery and Dr. Garcia came highly recommended from another surgeon due to his skill and experience working on revision knee surgeries. No surgery is enjoyable but it was an absolute pleasure working with Dr. Garcia, he is very detail oriented, very informative and all around a very nice person. The incisions were all very clean, much smaller than I thought they'd be and they healed quickly and very well. He has been very helpful with my recovery and you can tell he truly cares about how his patients are doing. I am now 8 months into my recovery and I still have some time to go but I already feel better than I have in over 18 years. I'm feeling great getting back into my sports and it is incredible to not be cautious about every step I take. If you know you need a surgery but are nervous he makes you feel very comfortable and I would highly recommend him to anyone needing a surgery, especially those like myself who have already had operations before.
~Jerome C.
Great experience with Dr Garcia and my rotator cuff surgery. I have a ton of confidence in his skills and he was able to repair my three severed tendons. I had hardly any pain after surgery (but of course, there is discomfort). He was very clear with me about the lengthy recovery time for shoulder surgery and I am progressing nicely after six months. More recovery to come – it is slow, but steady.
~Anne W.
From my ACL reconstruction to the Meniscus transplant, I was taken care of the whole way through. All of the information I was given was very straight forward and for my best interest. Dr. Garcia is not only amazing at his job, but he loves doing what he does. I would not be where I am without him, and his team. The difference in my life before the surgery and after is significantly different. I am now looking forward to a life where my knee isn't always giving me pain, and I can get back to doing the things that I love. I hope to stir confidence, and shed light to future meniscus transplant patients that are hesitant.
~Jeremy I.
So I have had the worst experiences in the past with doctors on several occasions, I hate needles and just do not like doctors in general..best way to put it. I hurt my knee 5 years back and never got it fixed or looked at because of the fear of knowing and doctors/bills on its own. After a long while, I finally decided to get healthy and check up. I was directed to Dr. Garcia shortly after a general check up. I was terrified coming into this office and it took everything in myself to walk inside. After finding out I tore my meniscus, I got scared and almost passed out. Dr. Garcia made me feel very comfortable, made me feel welcomed and safe throughout everything going forward. He listened and talked with me when I was scared/confused. He treated me like an actual human being and it was really easy working with him. Since surgery I feel like a new person and my knee has had no issues! Really appreciate everything Dr. Garcia and his staff has done for me, thank you all.
~Rylan P.
Video testimonial after Anterior Capsular Reconstruction a novel technique for revision subscapularis repair.
Check out our recent video testimonial after the Latarjet procedure
I am a healthy, active female, soon to be sixty six years old. During the spring season of 2021 I had a meniscus root tear in my left knee that I acquired while playing with my three year old grandson.
The injury wasn't immediately evident as I had spent the next month on a road trip hiking in the mountains with no issues, other than experiencing some stiffness in my knee, which I would find relief by stretching prior to each hike. It was after I returned home when I began to experience a slight limp and weakness in the left knee. One day I took a step and had a sharp pain and soon realized I wasn't able to bear any weight on that leg and fell.
I went to an Orthopedic clinic in Olympia, WA for x-rays and an MRI, which revealed I had a medial meniscus root tear in my left knee. The attending Ortho doctor gave me the option to either have surgery or let it heal on its own. He told me the recovery following surgery for repairing the root tear would be more difficult than having a total knee replacement. He also noted that he was the only doctor in Olympia who performed this type of surgery. After that appointment I decided to seek a second opinion. My daughter, who is an Orthopedic PA, did some research and discovered Dr. Grant Garcia. Her comment was, "Do you want a doctor who performs a limited number of these types of surgeries annually or a doctor who performs hundreds?"
Dr. Garcia reviewed the MRI and confirmed the diagnosis was accurate. I should note this type of injury most commonly occurs in sport injuries. He also explained to me that because I had little to no arthritis evident in my knees I was a good candidate for the Laparoscopic surgery. Doing nothing means in the future I would most likely develop arthritis and eventually a knee replacement. It was extremely important to me to resume my normal level of activities, i.e., hiking, kayaking and swimming.
On August 30, 2021 Dr. Garcia performed Laparoscopic surgery on my left knee to repair the MRT, which only took around forty-five minutes. I was given a pain blocker to help eliminate pain coming out of surgery. Following the surgery and throughout my recovery time I never once had ANY pain. As Dr. Garcia originally explained, the most difficult part of the recovery is the non weight bearing for eight weeks, which required using a immobilizer brace and walker and hopping around the house or to physical therapy appointments. I followed the home PT instructions explicitly and I found that I was a one to two weeks ahead in meeting my goals. By the eighth week I began hiking again, on alternate days, first couple days with a brace and then no brace. I would say currently my knee feels about 90% back to normal, however it should be back to 100% by the one year anniversary of the surgery.
Dr. Grant Garcia is a confident, exceptionally skilled Orthopedic surgeon, who listens to his patient's needs and concerns. He clearly explains the patient's diagnosis and provides an accurate prognosis. Above all, the proof of his abilities is in my knee.
~Kimberly T.
Check out this patient testimonial after a complex knee surgery including a TTO, MPFL and cartilage transplant
Dr. Garcia is incredibly knowledgeable about my particular shoulder injury(torn labrum). I had the same surgery done years ago with a different dr on the other shoulder. The difference is night and day! I fully recommend him as a surgeon!
~Stephen S.
Fantastic experience. Fixed my horrific meniscus tear.
~Henry G.
I have had multiple surgeries now at Seattle Orthopedic Center with three different surgeons. One left knee ACL and two on my right shoulder Subscapularis. All Dr's have been extremely professional and at the same time, wonderful to talk to about my care. Most recently, I was referred to Dr. Garcia because I tore the same ligament in my shoulder that had been previously repaired and had limited options for repair and returning to my active life, which includes playing ice hockey. Dr Garcia talked me through the two options I had with great detail and made it a priority for me to know that the decision was mine to make. I chose the path less charted (newer method of repair) because I felt that it gave me a better chance at a return to full activity and the possibility of continuing to play hockey with my son. Having said all that, Dr Garcia's positive energy and passion for his work gave me the confidence to make a choice like this and I am very grateful for what he was able to do for my shoulder and my quality of life. THANK YOU DR GARCIA!!!
~Paul S.
Dr Garcia is super friendly and helpful. Always takes some time to answer my questions about the two surgery's I've had with him.
~Joe C.
Dr. Grant Garcia is an excellent doctor. I said that because before seeing Dr. Garcia I had 5 knee operations. I'm in my mid 30s and I was an athlete and have wanted to get back to being active (skiing, tennis, etc.). For years I have struggled with bone and cartilage damage in my knee. I had a significant Osteochondral Lesion as big as 30 millimeters. Note that my most recent operation was a micro fracture but things had really deteriorated where I have had a hard time even going up stairs without some pain. I had to give up playing tennis a couple years ago as well. I looked at the best and most renowned knee doctors to address my issue. I realized my best bet was to do an osteochondral allograft which is taking a cadaver cartilage/bone and then transplanting that onto my knee in terms of a graft. Note only a few doctors do this type of operation. I interviewed all the best doctors who do this operation but ended up going with Dr. Garcia because of the following:
he was referred to me by another respected doctor in the space,
he has the greatest and most recent training at a renowned institution (Hospital for Special Surgery in New York and Rush)and
he is confident. I had my operation 8 months ago and it's like I have a new knee. I'm doing things I haven't done in years. And the best news is I'm back playing tennis and skiing which I wasn't sure I'd ever do again. I appreciate Dr. Garcia and all that he has done for me with my knee. I'm glad I went with him as it has proved to be one of the best decisions I've made in my life!
~Harold A.
Dr. Garcia did an amazing job repairing our son Jacob's torn labrum and bone spur in his throwing arm this past July. The guidance provided during his recovery was very clear and easy for a teenager to follow. We were surprised at the range of motion and how smooth his shoulder felt as he began physical therapy. Jacob was just fully cleared to start pitching again and we really appreciate the top notch care that Dr Garcia provided to get him past this injury and back on the mound this Spring!
~Marie S.
Dr. Garcia is an incredible talent. After having 4 other knee surgeries caused by countless basketball injuries, I thought knee replacement was imminent and I'm only 30! I had chronic patella instability and dislocations of my left knee, plenty of missing cartilage, and lingering pain. The other knee surgeons I'd seen never quite addressed my underlying issues. Dr. Garcia performed a TTO procedure, MPFL reconstruction, OCD repair for a large piece of missing cartilage, microfracture work, and added bio-cartilage and PRP, all in one go-around (by the way, look up these procedures they are intense!) But going into it I felt really confident because Dr. Garcia spent a ton of time crafting the game plan with me and went the extra mile to answer my many many questions. I had a series of complicated issues which could have been addressed in multiple ways. Ultimately Dr. Garcia designed and then executed the plan flawlessly. I couldn't be happier and I'm thankful to have been introduced to him. I'm recommending Dr. Garcia to everyone, no doubt.
~Jordan S.
Dr. Garcia is excellent! He performed a cadaver reconstruction of my ACL in conjunction with both lateral and medial meniscal root repairs that had previous meniscal surgery. He is an incredibly knowledgeable physician and talented surgeon. His assessment of the condition of my knee was thorough. My "Disneyland" is alpine skiing and my goal has always been to continue skiing. He heard me loud and clear, then outlined the steps I needed to accomplish in order to successfully succeed in my recovery. I am fast approaching the nine-month mark since my surgery and I am completely ready and eager to return to my happiest place on earth! Thank you, Dr. Garcia!
~MJ.
I went to 3-4 different surgeons and NONE of them had any idea how to give me relief from the pain in my shoulder (2 years visiting other doctors). I had one more chance. With my hopes really low. I found dr. García online. He's the only doctor that had a huge history of complicated surgeries (many videos of successful operations). I went in there, told him about the pain I was going through. He listened carefully, and did some tests that no other surgeons had done. He knew exactly what to do. Had modern technology and tools that other surgeons did not use. Made everything painless, efficient and easy. Don't waste any more precious time/money visiting other orthopedic surgeons. This guy's prime Michael Jordan. He's made my life better. Will make yours better too.
~Steven H.
Check out this video testimonial after rare coracoid non-union repair with AC joint dislocation.
I consulted Dr. Garcia about a problem with my knee. He was thorough, informative, and totally professional.
~Ray K.
Video testimonial after a revision ACL, meniscus and cartilage transplant in a young athlete
Dr. Garcia's approach to rectifying the painful condition of my elbow left minimal scarring and healed faster than the traditional approach to the same type of procedure. While the arthritis in my elbow joint is part of the process of growing old, the pain caused by the particulates did not have to be. Thank you Dr. Garcia!!
~Kenneth L.
Dr. Garcia took a shoulder that didn't work and gave me some freedom back. Sleeping better now and no longer in pain. He is down to earth, straight up with you and zero delays. He gets it done. Best experience I've had and I recommend doing everything through his clinic if your insurance will let you.
~Bradly B.
Video Testimonial after complex discoid meniscus repair
Check out our patient testimonial after a complex shoulder surgery on each shoulder.
So I ended up tearing my bicep and Dr. Garcia performed the surgery. I couldn't be happier with the results. The timeline he laid out for recovery pretty much went as expected. I couldn't be happier with the results. My strength has really started to rebound and the symmetry in my arm looks identical to how it did before the tear.
~Andrew C.
I was lucky to find Dr. Garcia after another surgeon diagnosed a meniscus root tear in my left knee. As an active hiker, equestrian & gym rat, it was really important to me that I work with someone who could get me back to the things that I love. I was pretty worried about the procedure and the recovery but Dr. Garcia was confident that I was a good candidate for a successful repair. 5 months later I have to say I have zero regrets and I would send anyone I know with knee troubles his way. I really appreciated being able to work with him and his team at OSS.
~Mary Danielle B.
Dr Garcia went above and beyond in fixing my knee pain. I had seen 2 other orthopedic specialists who basically told me I just needed to deal with the pain. So I decided to do my research on ortho specialists, I came across Dr Garcia, who had outstanding reviews. Boy did God answer my prayers when finding Dr Garcia. He didn't promise me surgery would fix my pain, but boy he over delivered! I ended up having a torn ACL, which he repaired. I'm no longer living in constant pain anymore. My recovery was quick, and my knee feels better than ever! Dr Garcia gave me back my life again. I'm able to workout again and do the things I love again. Thank you Dr Garcia and your amazing team who gave me back a pain free life again. Don't hesitate in scheduling, he will help you.
~Jamie P.
Can't rave enough about Dr. Garcia. Was having stability issues with my shoulder and saw multiple ortho surgeons. He stood out and garnered my trust right away. Had a latarjet procedure with him 6 months ago and as of today I'm cleared for full activity and good to go with no pain. If you're having shoulder problems, see this man!
~Nick B.
I am almost one year post op from a very extensive knee surgery that Dr.Garcia performed. I came to see Dr. Garcia after having 5 knee surgeries, on the same knee, and I was still in so much knee pain. I had seen doctor after doctor about the pain and they either wanted to take out more of my meniscus or tell me that there is nothing they can do. I was EXTREMELY discouraged and Dr. Garcia was a breath of fresh air. In that one appointment, he figured out what was wrong with my knee. One thing that caught me off guard, in a good way, was Dr. Garcia made sure that I was mentally ready and that I was okay before we went through with the surgery. The surgery I had to have was an ACL reconstruction, using a quad graft, and a meniscus and cartilage transplant from a donor. I went into surgery completely trusting Dr. Garcia and his ability to perform this crazy surgery. My recovery has been eye opening, incredibly hard, rewarding, and so much more. My knee has never felt this good and I am back to living life with no pain. I would recommend Dr. Garcia to anyone and everyone. He is an incredible person and surgeon. He was checking in on me all the time after surgery. For an entire year, he was making sure I was happy with my decision and that I was okay. I can't even put into words how good that felt and how much of a difference that made in my recovery. I am now back to working with no pain, I can play basketball with no pain and with confidence, and I can now do things without thinking about if my knee will hurt or not. Thank you Dr. Garcia for fixing my knee. I can't thank you enough.
~Drew C.
Had biceps repaired in February by Dr Garcia and now have full use of my right arm without pain. Incision from surgery is very nearly invisible as Dr Garcia did an excellent job. Good at explaining what was needed prior to the surgery and follow-up appointments. Would strongly recommend him for treatments or surgery.
~Kevin M.
I visited Dr. Garcia with a catch in my twice surgically repaired knee that was keeping me from cycling and skiing at the level I have enjoyed in my adult life. He was honest with me and we agreed therapy and supplements wouldn't heal me. He ordered an MRI and over a remote connection consulted me that a scope was in order to take a look at a foreign body. His office was quick to schedule and the procedure was flawless and successful. I am very thankful that I was lucky enough to be referred to Dr. Garcia, he is a super sharp young Surgeon…exactly who you want working on your knees in the greater PNW. Thank You!!!
~Beau B.
After a complete tear of the ACL and bucket handle tear of the meniscus, I thought my days of surfing and BJJ were over. During our first appointment, Dr. Garcia was honest about the severity of my injury, however – he was also very positive I would be back to doing my sports and in under a year. He was right! Throughout the entire process, he remained confident I'd be back, and less than a year after my injury I'm back to surfing and BJJ.
Dr. Garcia is among the best. He is straightforward, positive, thorough and his work speaks for itself. I highly recommend him if you need an orthopedic surgeon.
~Alex E.
I highly recommend Dr. Garcia and am so glad I found him. He made a huge difference in my recovery and care. He has meticulous attention to detail and goes above and beyond when considering what the best solution is for each patient. He has a great bedside manner and answered my questions thoroughly throughout the whole process. I was in a bike accident last summer and fractured my clavicle. The initial provider I saw did not recommend surgery and the recovery was incredibly painful. I saw Dr. Garcia mid-way through my initial recovery after switching insurance providers and he said his initial recommendation would've been surgery but that we should wait to see if it would heal properly. Unfortunately, it resulted in a non-union, and after 3 months still hadn't healed properly so we pursued surgery. Throughout the entire process, he always made me feel at ease and answered all my questions and concerns. Surgery was a breeze compared to the initial break and it's been a much better recovery process. I am now back to full range of motion and back to doing all the sports and activities I love because of Dr. Garcia – thank you!
~Marissa B.
Dr. Garcia is an outstanding and very personable surgeon who's superior capsule reconstruction of my left shoulder has yielded very positive results. I am very pleased with my experience. His staff: surgery PAs, surgery nurses, follow-up nurses, schedulers, and front desk personnel were knowledgeable, caring , and friendly!
~Paul G.
Dr. Garcia, is absolutely amazing, and he is helping me get my life back. I was in a serious motor vehicle accident June 2019. My vehicle had over $21,000 worth of damage, and I ended up with a bunch of injuries and a lot of pain in my knees. I went to the emergency room, they said it was dashboard knee and it should subside in a couple weeks. A month later, my pain was still getting worse. I had an MRI done and nothing showed, saw a sports medicine Doctor, who was amazing as well, we tried three rounds of Plasma Rich Procedure(PRP) (ouch!), physical therapy for months, but nothing worked. Eventually I was referred to Dr. Garcia who had me do an MRI on my knee again, still showed nothing. At this point it had been over a year living with pain all day, everyday. On the outside my knee looked great, but I knew something was wrong to be causing all of this pain. My primary care doctor suggested to ask for an Arthroscope of my knee. I asked Dr. Garcia about it, he was hesitant at first and wanted to try a cortisone shot to see if that would help long-term or to see if the pain went away and came back. If it came back we would then move on to the procedure, for two weeks it was amazing, no pain, but then it came back, even stronger than before. After telling Dr. Garcia this, we scheduled the procedure and he found a flap in my cartilage (like a cut so it was impossible to see on an MRI) and behind it, was a hole bigger than the size of a quarter of missing cartilage, that had laminated and pretty much just fell off. If Dr. Garcia did not have the faith in me, even knowing that was a long shot of finding something wrong, I would still be living in pain. He performed a MACI and TTO surgery on my knee and six months later now, the pain is almost gone, I am able to walk and drive for longer periods of time now, and with my knee getting stronger the less I feel pain. Dr. Garcia did an amazing job and I am forever grateful that he was my surgeon and was always willing to listen to me and believe in my outcome.
~Chris H.
I have been avid rock climber, mountaineer, and backcountry skier for over 20 years. In my youth I was a competitive distance runner. As a person who has been active her whole and life and still is, injuries happen. I have been seeing Dr. Garcia for years to treat my injuries. Dr. Garcia is an amazing surgeon dedicated to his craft. He also a caring and compassionate doctor who listens to you and understands how difficult it is to be an active person sidelined with an injury. Dr. Garcia wants to fix you so that you can get back out and do the things you love. In 2019 I had a left shoulder injury that made rock climbing painful. Dr. Garcia performed a bicep tendinosis surgery as well as arthroscopy on my AC joint. In only 6 weeks I was out climbing without pain and my shoulder has been pain-free for 2 years now; thus, allowing me to climb to my full potential. More recently, I started having issues with my right knee due to a ragged lateral meniscus and early signs of arthritis. After conservative treatment failed and the pain grew much worse, Dr. Garcia performed meniscus surgery. in June of 2021. Most importantly, I was in so much pain and Dr. Garcia made the effort to fit me into his schedule, which meant I only had to suffer for a few days. If you have any kind of shoulder, knee or elbow issue, I highly recommend Dr. Garcia. He will do whatever it takes to get you on the path to recovery and out doing what you love.
~Brigid S.
In 2010 I was involved in an accident while on duty as a peace officer that resulted in a complex knee injury. At the time, the ACL was the obvious injury and was replaced. In 2016, I suffered another injury where my ACL tore again due to my MCL being badly stretched or torn from the original accident. Another knee surgery was completed, again to replace the ACL but now including the revision of my MCL. Post recovery, I always noticed more lateral movement to my MCL but accepted it as "this as good as it would get." In 2020, while clearing a short fence, my knee locked up, and buckled inwards to the MCL side and causing a more complex injury. I found Dr. Garcia as a recommendation and for a second opinion. Dr. Garcia immediately identified more injury to my knee that the surgeon (that did the 2 prior surgeries) did, or at least informed me of. Dr. Garcia, was blunt and to the point about the treatments that I needed and the long recovery required. He diagnosed my right knee with having another torn ACL, Complete MCL tear and Meniscus Root tear. Dr. Garcia was very confident in what he needed to do and ensured me that his goal was to end my reoccurring issues with me knee. Needless to say, I enthusiastically elected Dr. Garcia to tackle my now THIRD knee surgery. I was very impressed with Dr. Garcia's team of nurses and PA's throughout the process. From my experience with this process, the PA Dr. Garcia assigned to me was in the operating room during my surgery. From a patient standpoint, I found this to be fantastic. I wasn't dealing with someone that had to "check" or be the relay person to Dr. Garcia. The PA's were there, and knew exactly the treatments I was provided first hand. Bravo!! I was just cleared to return to work and I feel great. I no longer have that "play" in my knee and I feel confident that this will be the last of my reoccurring knee issue. A huge shoutout to Dr. Garcia for taking care of my situation and for telling me exactly what I needed to hear! Also, a big shoutout to PA-C Gail Petteruti! She was wonderful handling my recovery post-surgery and helping me with my pain management. Gail was there on the day of operation, so when I had questions, she gave me the true and accurate answers I was looking for. Great Job to everyone involved.
~Rob K.
Dr. Garcia made me feel heard. I saw many doctors prior and not one listened to me, made me feel crazy, and told me to lose weight. Dr. Garcia not only helped me get better after several months, but also made me feel comfortable and encouraged to fully recover. He made it easy to understand what was going on and was incredibly patient. Would HIGHLY recommend.
~Grace H.
Check out our recent video testimonial after lateral meniscus transplant.
On December 30, 2019 I fell while snowboarding and knew immediately something was wrong. Five days later (on a Friday) I met Dr. Garcia for the first time, he told I had fractured my glenoid process and required surgery. He told me he was scheduling it for the following Tuesday. I was slated to travel the following week for work and told him that. He calmly asked me to follow him and brought me to a computer/x-ray screen and proceeded to walk me through my x-ray and MRI, showing me the fracture and explaining why it was critical to operate as soon as possible.
I cannot stress the importance of that moment enough. The moment he said I needed surgery I couldn't focus and think straight. Dr. Garcia was able to register that and took the time to ensure I understood the gravity of my injury and urgency in fixing it. I'll never forget how important that moment was, it brought me back into the reality of the situation and I booked the surgery for the following Tuesday.
From that point on, everything was as smooth as expected. The office explained to me the billing, the process I'd encounter the day of surgery – nothing deviated from that plan. The surgical team all met with me as I waited – all explained what I could expect.
My recovery was explained in person after surgery and summarized on documents I took home with me. My shoulder stayed numb until the following day, but the sensation was exactly as described, no surprises. Knowing what to expect every step of the way made for a very smooth recovery.
Dr. Garcia was an absolute rockstar and I feel I owe him so much. Within 8 months, I almost had complete and total full range of motion back in my shoulder (only off by about 10 degrees from my left arm). By month 8 I was back in the gym, dead lifting 265 lbs and doing push-ups again.
I struggle to find the appropriate words to explain my gratitude for the work he did, my appreciation of the care he provided me. I'm 48 years old and this was the first time I ever broke anything in my body, I knew nothing – he helped me every step of the way and did so in such a manner as to exponentially increase my success. I highly highly recommend Dr. Garcia to anyone needing his services (I wish there were more than 5 stars to give him)!
~David D.
Check out our patient testimonial after lateral meniscal root repair and revision ACL reconstruction.
Dr. Garcia gave me the ability to walk/ run again. After 7 years of hyperextension and constant pain, I'm living life to the fullest. THANK YOU.
~Michael S.
Dr. Garcia did a fantastic job explaining what needed to be done to fix my torn bicep and rotator cuff. He exceeded my expectations on recovery time and I am back at my favorite activities in a short 4 months.
~Craig N.
Our video testimonial after revision ACL surgery with posterior lateral corner reconstruction.
Highly recommend Dr. Garcia, have had multiple surgeries with him. all with excellent results.
~Connor H.
Dr. Garcia was very knowledgeable in what would be the best surgical option for me for my ACL tear. I opted for a quad tendon graft, and the surgery went flawlessly. Post op recovery went well, and any questions/concerns I had, Dr. Garcia was available to answer. The office staff at Orthopedic Specialists of Seattle are also incredibly helpful and friendly. Glad I made the decision to go there for my knee surgery.
~Kalina H.
Dr. Garcia was fantastic! He reconstructed my ACL and did a meniscal repair after I injured my knee skiing. He is an incredibly knowledgeable physician and a gifted surgeon. He was very thorough in his assessment and walked me through his recommendations. He took the time to make sure I was comfortable with the plan and then he hit it out of the park. My goal from the beginning was to get back to telemark skiing.
He heard me, and gave me the steps I needed to succeed. Nine months later, I was able to get back out there and hit the slopes. Thank you Dr. Garcia!
~ Kevin K, MD
Check out this patient's video testimonial after the elbow UCL internal brace procedure.
Check out our recent testimonial after a complex shoulder reconstruction.
Check out Dr. Garcia's video testimonial after a complex 2 stage ACL reconstruction.
Dr. Garcia repaired my torn pectoralis major about a year ago. He was very knowledgeable and helpful discussing the injury and my options. With the tear being a time-sensitive issue, he had me in for surgery quickly, and repaired the area exceptionally well. I was back to sport as quickly as could be expected, and am feeling back to about 100% strength a year out. Very happy with the results from such a major injury. Would highly recommend.
~David D.
July 2020 I had a patellofemoral replacement with Dr. Garcia. Dr. Garcia and his staff were excellent, providing amazing care from start to finish. After years of frustrating knee pain, I'm excited to get back to the activities I've had to set aside.
~Kelley S.
I had an ACL + double meniscus repair with Dr. Garcia at OSS, and I would recommend this office and Dr. Garcia to anyone looking to get a great repair and get back to an active lifestyle with confidence of a job well done, and with communicative, competent staff to make it happen. I was able to get back to climbing, mountain biking, and skiing quicker than I thought possible! The location is convenient, staff is friendly, and I always felt like I was in good hands. 5 stars!
~Holly B.
Dr Garcia was instrumental in getting my shoulder back to working order. He took a very damaged shoulder and brought it back to life.I was always treated very well by his staff and office people.If you need anything done to your shoulder Dr Garcia is the one to get it done.
~Ron W.
Dr. Garcia Repaired my Shoulder. Better than new. He's thorough, methodical and concise. His staff is exceptional, as well. Dr. Garcia is quiet, courteous and respectful in his manner. A++ I would HIGHLY recommend.
~Rusty M.
Very grateful to have Dr. Garcia as my surgeon for reconstructing my clavicle. After hearing from two doctor's opinions, Dr. Garcia made it clear why I was a good candidate for surgery based on my bone displacement and my active lifestyle. The surgery went smoothly and my scar is barely noticeable. After two months, I had full range of motion and pretty much returned to my same lifestyle. The plate and screws took a little getting used to, but without it who knows how my collarbone would be functioning today. I highly recommend visiting Dr. Garcia for your orthopedic needs, especially if you are an athletic individual.
~Kari S.
Dr. Garcia performed a Latarjet procedure on my shoulder. The procedure went very well and now my shoulder feels more stable than before the surgery. I'm back to work and feeling confident in my shoulder, which is extremely important in my line of work. Dr. Garcia and his staff are very professional and make you feel comfortable throughout the entire process.
~Martin O.
It's very simple, Dr. Garcia is the absolute best surgeon/doctor in the country. He changed my life and gave me the freedom to enjoy fitness again. A few years ago, I began experiencing fairly extreme knee pain while doing anything high impact. At the time, I was just 29 years old. After visiting 7 different doctors in the PNW, I was beginning to accept that knee pain would just be a part of life. Within my first visit to Dr. Garcia, I had confidence that he could fix my issue. And though the surgery required included every bit of 18 months to fully recover from, my surgical knee is now substantially better than my non surgical knee. I've referred dozens of people with knee and shoulder pain to Dr. Garcia. I tell them that he will not BS you. He will listen to your goals and clearly articulate each option. He will not recommend treatments unless he feels confident it will get the job done. I'll forever feel indebted to Dr. Garcia. If you have the unfortunate need to visit him, I'm confident he will help improve your quality of life as he did mine. Indeed, I give a full and emphatic endorsement of Dr. Garcia.
~Zak B.
Very professional and excellent care. Surgery very successful and staff all very knowledgeable and caring.
~Patt H.
"It has been a long road to recovery. Bo has spent countless hours of rehabbing and transforming his body. He has not thrown a baseball since Jul. 29th, when he fractured his elbow. He had major surgery on Aug. 17th and since then he has been diligently working towards this day. Today he gets to cross off the first milestone of light throwing. It was done so with success and no pain or discomfort (Yay!) I am so proud of him and his work, and I hope the success continues as we keep building the strength back up. Thank you to Grant H Garcia who was his surgeon and took such great care of him from the first time we met and thank you to Chris Havel his Physical Therapist, who has built him back up to where he is now and a special thank you to Eric Ruben who has mentored Bo from the beginning as well as guided him through the comeback. Without all these people, none of this would be possible. Stay tuned for the comeback story!".
~Travis M.
Check out Dr. Garcia's patient testimonial after surgery for recurrent elbow dislocations.
Dr Garcia was able to repair what other surgeons told me was not repairable. I had a massive tear of my right rotator cuff along with a ruptured bicep tendon. My injury was sustained during the first week of the Covid shutdown in March. Because of the shutdown, my injury was left unattended for 4 months. I was told by two other surgeons that they could do nothing for me and that I would need a total shoulder replacement sometime in the not so distant future.
Dr. Garcia not only expertly repaired my injuries using state of the art techniques, but did so in a way that within a few weeks of surgery my recovery was going so well that he had to advise me to slow down my rehab. (BTW, no need for the total shoulder replacement).
I am now 4 months post surgery with better than normal range of motion, 90% strength recovered and once again playing golf. Dr. Garcia is the Rock Star of shoulder surgeons!
~Steve O.
A little back story to my incredibly amazing experience with OSS and Dr Garcia. I am a 43 year old Firefighter/Paramedic and an athlete, I injured my shoulder falling while snowboarding in march of 2020, I had a torn bicep and a slap tear in my left shoulder per my MRI. I was in an incredible amount of pain all the time, work was excruciating, I couldn't sleep and my daily workouts were virtually impossible , I did several months of physical therapy before Dr Garcia agreed surgery would be a good option for me ( I appreciated his conservative approach because surgery was last on my list of things I wanted to do this summer lol) shoulder surgery has always been a terrifying nightmare to me, Ive seen many a friends and coworkers end their careers from shoulder surgeries that didn't go well, so I was terrified, but Dr Garcia has a really calming presence and he made me feel really confident that he could help me.
He doesn't know this but I went to Dr Garcia after first being referred by a close friend to Dr Shapiro in the same practice, Dr Shapiro wasn't able to see me so I agreed to be seen by Dr Garcia instead. I must say it was a blessing I never saw coming. Just 3 month post surgery I tell everyone each day that I feel like I got a new shoulder, I haven't go an ounce of pain I have full range of motion, without limitations. my pt says I actually have better range then in my non injured shoulder now. I'm able to do everything and more I go back to work tomorrow exactly 3 months and 8 days post surgery. I haven't even barely a remnant of a mark, if i didn't point out the slightly discolored 1/2 incision you'd never know I had surgery at all. Plus I have tattoos that he had to go through, he made sure that they were sewn back perfectly, I cant even tell you were it was its that hidden.
So overall Dr Garcia is pretty much my hero, he helped a broke firefighter save a career that she loves and gave me back my active life. I'll be snowboarding again this year thanks to him. Also shout out to the entire staff from the front desk to the surgery team You ALL made my experience wonderful. You have no idea how terrified I was but you made me feel so comforted at every turn and I will always be grateful! Much love to you all
~Margie B.
I felt incredibly rushed and like I wasn't being listened too. (i.e. tried physical therapy for my knee & had issues for 5 years….told to lose weight and physical therapy). So I tried seeing Dr. Garcia who was phenomenal in how attentive he was and how much he made me feel heard and validated my pain I had been experiencing.The staff at Wallingford were okay, but the staff at the Ballard office were very kind and energetic.
~Grace H.
Video Testimonial after Multi-Ligament Knee Reconstruction.
I was referred to Dr Grant (by a different surgeon) after the initial open surgery performed on my right shoulder did not take.
The injury was a severe 90% tear on the right rotator cuff and after 3 months post surgery and (twice a week) PT rehab, I could not raise my arm above my shoulder in any direction.
My options were to leave it as is, have a complete shoulder replacement, or have a Superior Capsular Reconstruction (SCR) done. So a lengthy discussion with Dr. Garcia ensued where he explained the options to me.
He told me that I was NOT a good candidate for total shoulder replacement because I was still "too young" and would most likely outlive the replacement, and very probably would have my shoulder replaced when I'm (a lot) older. That did not sound fun to me.
I did not want leave it as. If I did do that I would have very limited range of motion along with much pain more than likely. I still have a good amount of working years left in me, so the SCR seemed to be the best option. And that is what I chose.
Now, post SCR surgery and after a long 9.5 months of twice weekly PT rehab I have recovered 95% full range of motion on my own strength and movement and with no pain!
Even though I don't have back my full strength prior to the injury for lifting overhead and straight out in front of me, I can manage some lifting using learned modified techniques. And may never recover full strength again, even though I will continue strength training accordingly to keep my shoulders in shape, but I am super happy to have my arm and shoulder function again.
Dr Grant Garcia was put in my path for this new procedure and his amazing expertise in performing the SCR procedure got me to where I can function in a normal capacity in my daily activities. Thanks Dr Grant!
~ J. Wade
I'm a repeat patient for Dr. Garcia. Last year on a trip to Chicago I tore my left meniscus root. Misdiagnosed by a local Orthopedist as a simple torn meniscus, I sought out a 2nd opinion once I got back to Seattle. Dr. Garcia reviewed the Chicago MRI and X-ray and clearly identified a torn meniscus root that would require surgery. A year later I've now torn the right meniscus root (a matching set of scars!). Based on the accurate diagnosis, successful surgery, and awesome PT support, Dr. Garcia and Orthopedic Specialists of Seattle was the only choice to getting me back on my feet. Thanks Dr. Garcia!
~ N. Johnson
Patient shoulder replacement testimonial for a severe and complex shoulder fracture
After I suffered a severe knee injury as a result of a freak accident, Dr. Garcia performed surgery on my right knee to reattach my quadriceps tendon. I could not be happier with the results. Five months after surgery I am at least at 90% of my pre-accident mobility and activities. I can comfortably walk 3-4 miles five or six times a week, and occasionally I go 6+ miles with no problems. And these results have been achieved for someone in his late 60's. I highly recommend Dr. Grant Garcia.
~ J. Miner
One year ago, Dr. Grant Garcia of Orthopedic Specialist of Seattle performed an arthroscopic surgery on my right shoulder to address my chronic instability.
After sustaining an injury, I tried years of physical therapy, acupuncture, targeted muscle training, and thermal therapy. For years everytime I raised my arm past a certain point, my shoulder would involuntarily jolt into a clicking dislocation. Even more impactful on my daily life was the consistent pain and discomfort which accompanied this injury.
After five years of trying all non-surgical options, I decided to contact the Orthopedic Specialist of Seattle for a consultation. Immediately after meeting Dr. Grant Garcia I felt as though I was talking to the person I've been searching for all these years. After my first handshake with Dr. Garcia I was comfortable, and finally felt like I might have a chance at gaining effective physical relief. Leaving this consultation, I walked out with a notable sense of hope and confidence, something I haven't felt about my shoulder instability since my injury.
While maintaining an air of professionalism, a compassionate disposition beamed through when I began communicating my experience and desperation for pain relief. It revived my motivation to see Dr. Garcia so excited and passionate about bettering my future with my shoulder.
Dr. Grant Garcia was incredibly transparent when describing the procedures and routes available to somebody with my issues in shoulder instability and the severity it had reached. Dr. Garcia's personable demeanor enabled him to thoroughly explain all the various elements involved and what I should expect. And though certainly he exuded a presence of capability, after researching his background I was emboldened by the scope of his experience with arthroscopic shoulder surgery.
In terms of the surgery itself, Dr. Grant Garcia was one of the last faces I saw before going into the operating room. Afterwards I woke up in my bed, and stayed comfortable throughout the day, only needing a minimum dose of pain medication before sleeping for the night.
Two weeks post-surgery I had an appointment with Dr. Garcia, I walked in very excited and proud to show him how well my shoulder was progressing. Though hard to imagine, Dr. Garcia seemed just as thrilled as myself, increasingly evident with each small exercise and movement I was able to perform. I found myself beaming every time I saw him, and his enthusiasm and returned smile made me view him not only as a talented surgeon, but also as a partner in my healing process.
While my recovery started progressing I was consistently surprised by the things I was able to do, which, since my injury, haven't been possible. One day I realized I was lifting objects without the support of my other arm, I could move in a new way, and I could lift my right arm above my head without a jolting dislocation. Though perhaps small, these instances and abilities are major accomplishments for me and my shoulder instability.
Now, one year post surgery, I can't express enough how genuinely life changing my experience with Dr. Garcia has been. He has been one of the most impactful people in my life, and I am incredibly grateful for the work he's done with my shoulder. I am physically relieved, and emotionally revitalized after feeling helpless for so long. Dr. Grant Garcia and the surgery he performed has fundamentally affected my life in such an immense and positive way.
~ M. Byass
I had ACL reconstruction and a patella tendon allograft performed by Dr. Garcia. Throughout the pre surgery appointments, surgery day and post surgery, he has been amazing and I'm healing very well, stronger than ever! He's very professional, knowledgeable, kind and positive. I've recommended him highly to some of my fellow tennis players who have injured their knees. Also, the staff at OSS have been nothing but pleasant and easy to communicate with each time. Very thankful I found Dr. Garcia and OSS.
~ S. Fahey
I am so grateful to Dr. Garcia. I was in a world of pain with a torn labrum and frozen shoulder. Dr. Garcia was able to help my life return to normal. The entire staff is professional, prompt, competent, and kind. I highly recommend Dr. Garcia. It's been a pleasure having a very highly trained surgeon who has your back.
~ S. Hardin
Dr. Garcia is excellent ! My son (15) has OCD in his left knee which went incorrectly diagnosed for years. Dr. Garcia not only correctly diagnosed it, but very clearly gave us our options which we felt gave us the highest chance of success in fixing this issue. The surgery and plan went great, my son is back to playing baseball but now with no left knee pain and we couldn't be happier. Highly Highly recommend Dr. Garcia!
~ Cheryl W
Dr. Garcia is the best there is. He performed a complex 3 tendon repair on my rotator cuff where 2 of the tendons were completely detached, and I was in a lot of pain. He talked me through the procedure in detail, helped me understand and prepare for recovery and made me feel like a rock star throughout. 5 months later, I am doing pushups and throwing a ball for my dog…things I couldn't even do prior to surgery. My results were outstanding and exceeded my most optimistic expectations. He has a fantastic manner and great personality, and clearly knows what he's talking about. I wouldn't see anyone else. The best.
~ Clay W
I highly recommend Dr. Grant Garcia at Orthopedic Specialists of Seattle for his high level of skill and expertise. He performed an intricate meniscal root repair surgery on my 55 year old knee, and I'm extremely pleased with my outcome. Dr. Garcia is very professional and compassionate about his profession. He was very honest about the surgical risks and possible outcomes, as well as the amount of work it would take for me to get back to all the activities I enjoy. He listened to what I wanted for an outcome and helped me achieve it. I followed his lead and am now biking and telemark skiing the way I used to. I am so grateful to have made my goal of hiking out to get some fresh deep turns this ski season. Thank you for the outstanding work you and for what your team did to get me back on my skis.
Many thanks,
~ Eddie Paltrineri
Check out Dr. Garcia's patient testimonial after OCD repair of the knee.
I highly recommend Dr. Garcia who repaired my ACL and Meniscal Root tear. He is very thoughtful and attentive and has provided great advice along the road to recovery. Following an ugly injury, my knee is now strong and flexible.
~ Anonymous
I was at Seattle Orthopedic Center for an appointment for an assessment for a shoulder injury with another Surgeon who informed me that he was not going to be able to repair my shoulder as expected. After the initial shock of " you can't fix my shoulder" sunk in I was informed that Seattle Orthopedic Center had a surgeon that could repair my damaged shoulder. That surgeon happened to be Dr. Grant Garcia, and over the course of a couple of pre-surgery visits he gave me possible options; but more importantly I was very comfortable with Dr. Garcia's degree of experience in preforming complex shoulder repair surgery. During my first follow up visit I was introduced to a highly skilled Physical therapist that Dr. Garcia had in mind. Over the course of 10 month's my surgery healed and my range of mobility increased. I liked Dr. Garcia's approachability during my post surgery follow up visit's. My range of motion post surgery far surpassed my expectations. I highly recommend Dr. Garcia
~ Michael R
What he did for my shoulder was nothing short of miraculous. I have such great ROM now and am so grateful. He is a true professional.
~ Brown T
I saw Dr. Grant Garcia for my left shoulder which was bone on bone and needed a replacement. I did my research and I am glad I did. He replaced my shoulder with a state of the art replacement called Simpliciti . It was stemless which means he did not have to drill down into my bone and put a stem in. Less downtime and not as invasive. My surgery was a hard one and lasted 3 hours because there was no opening between the bones. He used his expertise and he built up the socket and it was fixed. Physical therapy was on me as far as taking what he did and making it worked for me. 5 months after the surgery I went back to work with no restrictions and he monitored me every step of the way. He is a very positive and calming Doctor. I highly recommend him to anyone who needs a shoulder replacement. I am 65 and my arm has never felt this good in 25 years or more. Thanks to Dr. Garcia and his staff for the times I sent in the office.
~ Keithley S
I had knee surgery on Feburary 19th, 2019 with Dr. Grant Garcia. I'm a mid twenties woman who tore her MPFL severely and it needed to come out and be replaced. Dr. Garcia was incredible through the entire process. He was very clear with what was going to happen and how it was going to happen. My knee was pretty severely impacted and I ended up getting an MPFL reconstruction with a cadaver tendon and an Arthoscopy. Dr. Garcia and the entire staff made me feel comfortable and calm through the entire recovery. Before the surgery I was in crutches and barely able to walk up stairs without assistance. Now, one year later I have my life back. I've hiked and skiied, stood for more than 30 minutes with no problem. Dr. Garcia and the staff of Seattle Orthopedic Surgeons gave me my life back and I am forever grateful.
~ Bailey F
Dr Garcia is amazing! I was referred to him by my physical therapist for my left meniscus when another surgeon said there was nothing that could be done and I need to just "grin and bear it". Dr Garcia tried a cortisone shot and more physical therapy. When that didn't work he gave me the option of surgery to see what is actually going on. It turned out that my meniscus was very close to tearing and he was able to make the repair. He explains everything in an easy to understand way and makes me feel very comfortable with what has been done and what to expect next. Everyone at his office is so helpful and nice. I have already told anyone who has knee or shoulder problems to go visit him and I will continue to!
~ Amanda
My 13 year old daughter had been having knee pain for over 5 years by the time we ended up in Dr. Garcia's office. She is a dancer and her right knee would bother her while dancing. An MRI showed some patellar tendinitis. We had already tried rest, PT, and oral steroids. Dr. Garcia was always very thorough with his exams. We decided to start with a cortisone injection. Unfortunately, this didn't help. Then we went on to do a PRP injection. (Not covered by insurance).There was some difficulty starting an IV on my daughter and we were unable to collect the necessary 60cc of blood required for the procedure. Dr. Garcia was visibly upset and extremely apologetic. We rescheduled the procedure for a few days later and Dr. Garcia was able to have one of the anesthesiologists from the clinic come and start the IV, at no extra cost to us. We were able to complete the injection, but it didn't work either. Throughout all this time, Dr. Garcia was so attentive and clearly invested in my daughter's recovery. We repeated the MRI and found that she also had a fat pad light up. Dr. Garcia gave us the option of surgery. He said that he could only offer us a 50% chance that it would work, but that he was willing to do it if we wanted. Correction, he as willing to do it if my daughter wanted to. This is the thing that I admire most about Dr. Garcia. HE ALWAYS TALKS DIRECTLY TO MY TEENAGE DAUGHTER AND MAKES SURE THAT SHE IS THE ONE MAKING DECISIONS ABOUT HER OWN HEALTHCARE. My daughter had the surgery last October. It went very well and she walked out of the surgery center on her own two feet. It is now 4 months later and the pain that my daughter had before surgery is gone. She has a pointe solo in her dance studio's production of Oz in a few weeks!
~ Renee G
I had a very good experience with Dr. Garcia. My results were excellent. I wouldn't hesitate to recommend him
~ Alicia J
I feel lucky to have had Dr Garcia for my shoulder injuries. After seeing the images on the MRI, and subsequent photos of the surgery, he did a beautiful job of repairing the tear on the cuff and relocating the biceps tendon – little works of beauty and skill! At the age of 75, this was a daunting surgery and recovery. He was very enthusiastic about getting me back to pain free yoga and swimming. He listened to all my concerns, and was patient and thourough in explaining everything. He recommended a top-notch physical therapist, and at the end of five months I am back to doing everything I want to do. I would say he's the best surgeon and cheerleader for the proceedure anyone could want!
~ Sandra O
I met Dr. Garcia when my shoulders were extremely painful and I needed to have both replaced. His care and concern for his patients is outstanding! He explained what he would be doing in surgery. He takes the time to listen to his patients and answers all questions. He is an excellent surgeon and I have had very good results with both shoulders! I highly recommend Dr. Garcia!!
~ Sharon C
I waited five years to find a surgeon that could perform a complex reconstruction of my shoulder. I had superior capsular reconstruction performed by Dr. Garcia six months ago and the results have been amazing, both with respect to pain relief and improved function. I highly recommend Dr. Garcia.
~ Shawn I
Check Out Dr. Garcia's Patient Testimonial After Complex Shoulder Stabilization Surgery
If you have an orthopedic issue, go see Dr. Garcia! I have been to a lot of different ortho docs for a 13 year old knee injury before Dr. Garcia fixed it with a cartilage transplant (osteochondral allograft). He was the first doctor who offered to try something new (what a relief) because he is an incredibly talented surgeon and knew the latest research on treatment options and outcomes. Beyond his skill, I could actually see he how much he cared about whether my knee pain was gone and it finally is. All around, Dr. Garcia is one of the best!
~ Christina P
Dr. Garcia understands both the physical and mental aspects of an injury to an athlete. He was able to reconstruct my ACL and provide me the resources needed to make a speedy and safe recovery. I have recommended him to friends who have similar operations and would go back to him in a heartbeat if needed.
~ Eric S
Check Out Dr. Garcia's Patient Testimonial Video After Cartilage Transplant
Dr. Garcia did a meniscus root repair on my right knee in October 2019 and it has been the best outcome imaginable. I no longer have pain in my knee when sitting and walking. Dr. Garcia is the best orthopedic surgeon I have ever been to and I highly recommend him.
~ Sara L.
Dr Garcia was awesome and did a fabulous job putting back together my multi fractured ankle. Everyone I encountered told me how hard it was to fix a fracture like I had and how good he was at those tough cases. I am thankful to have had him as a surgeon and thankful I am walking like normal now! Thanks to Dr Garcia and all the fabulous people that helped me thru this at the clinic!!
~ Rebecca K.
I can not say enough about what a wonderful doctor I have found in Dr Grant Garcia. I had had a full knee replacement back in February and developed a great deal of scar tissue immediately after my surgery. After months of physical therapy my surgeon told me to give it a year and see how I was then. He said I would learn to "adapt" that's what everyone does. Well thanks to Travis Reed, at North Bend Physical Therapy I was given Dr Garcia's name. My first visit in his office, he was kind and willing to discuss my options. He explained the good and the bad and what I could expect from a scar tissue removal surgery. He listened to my concerns with general anesthesia and was willing to perform my surgery with a spinal. The outcome has been nothing short of incredible. I have regained my mobility and flexibility to a degree I never thought I would be able to obtain. I highly recommend Dr Grant Garcia he is a truly gifted surgeon and a caring man.
~ Ellie M.
If you're shopping for an orthopedic surgeon…here's a shout-out to Dr. Grant Garcia with Orthopedic Specialists of Seattle. He put three (big) screws into our daughter left leg to fix a risky fracture in the head of the femur. He was caring, compassionate and such a perfectionist — all we could ask for! My regular orthopedic doctor is retiring this year, so should I need orthopedics in the future (good chance) I'm thinking of making the drive to Seattle…even with the horrible traffic.
~ Erika A
Dr. Grant Garcia is an amazing, skillful and compassionate Surgeon. At the age of 53 I had a water skiing accident that gave me a severe shoulder SLAP tear that tore my tendon and Labrum significantly. After being miss diagnosed at another office, I came in to OSS, (my husband had a great experience and results with his hip replacement by Dr. Downer), to see if someone could help me, I was seen by Dr. Garcia, who quickly diagnosed and scheduled surgery for a biceps Tenodesis. Dr. Garcia did an amazing job putting me back together, (A little like Humpty Dumpty). He also coached me through the recovery and rebuilding process, it was not an easy recovery but worth it. I am able to do things I probably shouldn't do at my age but life is short. Dr. Garcia was very patient and supportive throughout the process and I would highly recommend his services to anyone that is active and would like to stay that way. I can now continue skiing, hiking, riding horse and motorcycles with my son.
~ Belinda B
Dr. Garcia is very knowledgeable and always willing to take time to answer questions. He explains everything In detail but always has time to answer questions. He has replaced both my shoulders and I'm very happy with the results!! I would highly recommend Dr. Garcia!!!
~ Heidi G
I'd highly recommend Dr. Garcia to anyone needing surgery and especially athletes. He understood from the get-go how important my activities & sports are to me and was attentive to my needs from diagnosis to 8 months post surgery. My meniscus was described as "tattered" and Dr. Garcia's work helped me get back to near 100% shape.
~ Mick B
I'm 5+ weeks beyond my meniscus tear surgery and couldn't be happier with the outcome: pain-free and have resumed virtually all of my normal activities (will return to tennis this week). Dr. Garcia was excellent throughout: diagnosis, laying out treatment options, performing the surgery, and follow-up visits. He's a great communicator and set (and met) expectations for recovery/rehabilitation period following surgery.
~ Mark F
I had a flawless experience with Dr. Garcia from diagnosis to surgery, post surgical recovery and return to full duty at work. I have 100% confidence in his skill set and would recommend him to anyone. My results were excellent. I'm pain free in my knee and can perform every activity I enjoyed prior to my work injury.
~ Ted L
Dr. Garcia changed my life! 22 years ago I sustained an injury that has caused me knee problems ever since. My knee pain had been getting increasingly worse over the past 5 years and was so bad that I had a hard time walking through a grocery store. Every doctor I went to said that they had done all they could for me and I had to just live with the pain. I decided to give one more doctor a chance and I was referred to Dr. Garcia. At my first appointment, I could tell that Dr. Garcia was different from other doctors I had seen. He was engaged and excited to be able to help me out. I could tell that he truly loves what he does. Dr. Garcia told me that my tibia was out of alignment and that's what was causing the knee pain and arthritis. And best of all, he had a fix. He performed a high tibial osteotomy on my left leg and 5 months post surgery I have NO knee pain and I am back to being active – hiking, cycling, etc. I feel like a new person.
~ Valerie Z
I broke my glenoid cavity in my shoulder at work in March 2019. From everything I'd heard about shoulder surgeries, I never thought I'd regain my full strength or mobility. Dr. Garcia did an amazing job and I have 90% of my range of motion back within 6 months. I can already lift up to 50 pounds with that arm and can see substantial progress week to week.
~ Steven S
Dr. Garcia is fantastic! Very courteous, thorough, and a fantastic surgeon. Very pleased with my outcome!
~ Christi G
Excellent experience with Dr. Grant Garcia!! I had been having problems with my knee so came in to see Dr. Garcia. He quickly diagnosed a torn meniscus and scheduled surgery. I was a little apprehensive because my brother had recently had meniscus surgery and he had advised me to "get some strong medication for afterwards!" Dr. Garcia was very patient and articulate about the process, plus he directed me to his web site where he had a number of short videos that explained the surgery, what the meniscus was and did, what arthroscopic surgery entails and other very useful and easy-to-digest information.
The actual surgical process was smooth and the nurses and other assistants were extremely kind and friendly, helping me to relax every step of the way. After surgery, my daughter drove me home and took care of me but because there was absolutely NO pain for the first 48 hours I began to think that perhaps I had not actually had surgery! I took one of the prescription pain pills only because I was told to do so, but I really didn't need it. Dr. Garcia explained that the amount of time he must spend inside my knee to fix the meniscus is directly related to my recovery, and he said he was in and out in 15 minutes so he expected my recovery to be quick. It was. I was walking around without pain almost immediately and was driving just three days later.
I have continued to recover smoothly and am now back at low-impact Jazzercise and Gentle Yoga—even the Child's Pose!—and am feeling no pain. I credit Dr. Garcia's skill and knowledge and expertise, as well as the years of "squats" I have been doing in Jazzercise for the good surgical experience and for my smooth recovery!
Would not hesitate to recommend Dr. Garcia!!!
~ Sally T
Dr. Garcia has been fantastic. He is calm, courteous and professional. Especially appreciated how confident and reassuring he was. In what would have been a 12-15 week healing process took only 8. Feeling grateful to be mobile sooner than later. His team is wonderful. Highly recommend Dr. Garcia and team.
~ Christine B
Dr. Garcia fixed my ruptured distal bicep tendon, which had retracted pretty far up towards my shoulder. I am now back doing the thing I love (Aikido) at full capacity, hopefully for many years to come!
~ Abell S
My Physiatrist referred me to Dr. Grant Garcia for my shoulder pain I was having . MRI showed I needed surgery. I was so pleased with the professionalism and caring staff of OSS!! Such wonderful care I received from everyone . I am so thankful for the incredible surgical skills of Dr. Garcia! I had not only a torn rotator cuff but also a detached bicep and am making the recovery from that thanks to Dr . Garcia and his surgical team at OSS. You and your whole team have been a blessing for me! Thank you Dr. Garcia!
~ Gaylene J
Dr Garcia was extremely professional in dealing with my torn meniscus. I felt we had the right mix of PT (try to fix it with therapy first) prior to deciding the surgery. The surgery was a big success with knee feeling much better after even a couple of days.
~ Greg N
Staff office are great. Dr Garcia is a fantastic surgeon. I got a second opinion. He saw me right away. He diagnosed me and came up with a plan.
I had surgery this morning. I feel the best I have felt in months.
I am so grateful to Dr Garcia for giving me relief from chronic pain.
I am only taking tylenol and Ibuprofen for minor pain.
~ Karen R
Our high school aged son experienced a sports-related elbow injury and we were referred to Dr. Garcia for evaluation. From our very first appointment, Dr. Garcia was extremely patient, caring and detail oriented in his communications with us. He even took the time to call my husband, who was out of town, during one of our appointments to update him on our son's treatment options. We decided to have a modified UCL surgery (a newer approach for non-throwing athletes, in lieu of the typical TJ surgery). He provided excellent care and attention at all stages of treatment. Our son has fully recovered and is back playing the sport he loves.
~ Fitzwilson
Dr Garcia is great! My shoulder looked like someone put a golf ball in it. He gave my an injection to reduce the swelling and decrease the pain but, after the MRI, he said I needed surgery. I put it off six months, thinking I could fix it myself with massage and PT. When I finally agreed to have the surgery, I was freaked out that it was a lot bigger than I had imagined- rotator cuff repair, biceps tendon repair etc. Dr. Garcia did a marvelous job. It was arthroscopic- you can't even see the scar. My shoulder feels better than it has in years. Thank you, Dr. Garcia, for helping me get back to enjoying my life!
~ Susan H
I am very grateful to Dr Garcia for fixing my broken collarbone. Four months after the surgery, I feel great. He was very thorough and patient during the whole process. He took time to carefully answer all my questions during office visits.
~ Shailend C
My teenage daughter had a Type 3 tibial spine avulsion fracture, which is similar to an ACL tear except that the bone breaks instead of the ligament. Dr. Garcia has been outstanding throughout her care, from the preoperative assessment, to the operation itself, to the postoperative care. I am a physician, and I would definitely highly recommend Dr. Garcia for my friends and family. And I would likewise recommend Orthopedic Specialists of Seattle in general—three of my immediate family members including myself had received excellent care from their doctors.
~ Eric K
I had my left shoulder rotator cuff and my left left biceps tendon done by Dr Garcia on 04/04/19.All I said to him was,"I want one of those "Winter Soldier" arms and,"No cutting the tatoos and to be perfectly honest I was scared poopless and he could tell and calmed me down asap and then spoke with my wife about post op activities at home. He should be proud of himself because he can tell you how bad off I was and all the work he did to help me. I was hurt on the job and on L n I as of (11/30/17) and have been on light to modified to no work due to my condition.But do not feel bad for me I have been making people regret doubting me for a long time.I also have a top shelf surgeon in Dr.Grant Garcia and who I have to thank because he didn't just fix my arm or make it to where I can go back to work he made it ,No me !! stronger and for that I am truly thankful.🇺🇸 Thank you again. Dr.Garcia
Ps.And thank you from my lovely wife and my kids
Thank you.
~ Udell G
Dr. Garcia was amazing when I had to undergo both ACL and Meniscus surgery.He was caring, detailed and helped expedite the process when I was under tight time constraints. Would highly recommend his services, and the OSS team!
~ Natalie B
I had a long overdue shoulder replacement about 6 months ago. The surgery went smoothly as did my recovery. My doctor was excellent and by following the details of my physical therapy and directions of my doctor I can now move my arm around freely without pain and only need to continue strengthening. There was not as much pain as I expected from the surgery itself. I am very happy I had this done.
~ Susan K
I can't say enough about Dr. Grant Garcia and his team at Orthopedic Specialists of Seattle. I had a tri-malleolar fracture and in less than 4 months, I'm walking, working out again and doing really well.Dr. Garcia was professional, encouraging and attentive through the entire process. I feel for anyone that has this kind of a break, and highly recommend Dr. Garcia and his team of experts. Top notch from beginning to end.
~ Elise V
I am very grateful that Dr. Garcia is my doctor! I was told there was nothing short of a shoulder replacement to address my shoulder injuries. He assured me he would have a plan to help me. Dr. Garcia makes it clear that he was working with ME to help ME and not just performing a surgery. He assured me the day of the superior capsular reconstruction that he would do his very best to help restore my shoulder function and I am on my way! He has followed through starting with a phone call first thing in the morning the day after surgery and has been there for the past 12 weeks. Dr. Garcia and his staff have been very respectful of my time (I travel 90 miles to his office) and the appointments are always prompt. He has responded to my email questions within two hours of initial emails, he answers my office questions with serious concern (always looking you straight in the eye, not at a computer) and has made sure I know that he is there to help me recover. I have a journey ahead of me to my full recovery and am so glad that I have Dr. Garcia along side me as I move forward.
~ Donnett B
Dr. Garcia was great! I had a bad leg fracture and he did a great job. I am very thankful to be back walking again. Everybody at the office was kind, pleasant, and extremely helpful. Thanks again.
~ Beverly W
I fell from my stairs to my sidewalk on my right shoulder. Dr. Garcia accurately accessed the critical condition of my injury. Surgery was scheduled in 2 weeks and with Dr. Garcia skill completely repair the damage to my tendons and ligaments. Six month post op with physical therapy I am completely recovered and I am totally satisfied with his assessment and skill as a surgeon. I am 65 years old.
~ Washington Girl
I was referred to Dr Garcia for an Achilles detachment and he had been amazing. He's incredibly friendly and calming and eased my anxiety about having surgery. After hearing horror stories of the recovery time from other people, I was very happy to have been able to be back to almost normal far more quickly than I had anticipated. I would highly recommend Dr Garcia, and in fact I already have.
~ Lena G
Dr Grant was terrific and for the first time in 15-years, I can move my leg without hearing clicking and without feeling any pain in my knee.
I knew at my first appointment that I was going to be in safe hands, and felt reassured that I would be well looked after.
The surgical procedure (meniscectomy) went very well and I am extremely grateful to the Orthopeadic Specialists of Seattle for doing their very best.
Thoroughly recommend
~ Eosh S
Dr Garcia is a great surgeon and did a wonderful job on my knee, he is very polite and good at what he does. Strongly recommend him if you're looking for a surgeon.
~ Ruben E
Dr Garcia is fantastic – really really knows his stuff, and how to explain it to you, the patient. I am able to use my shoulder again after Dr Garcia performed a Superior Capsular Reconstruction on it. My rotator cuff was beyond conventional repair, but this saved the day. This procedure is fairly new, but Dr Garcia is a seasoned pro at it, and I'm so grateful to be a recipient of his talent, knowledge, and expertise. He's very enthusiastic and focused. Thanks, Dr Garcia!
~ Kit W
Working construction in July 2018, I ruptured my bicep tendon. The normal complete rupture, allows the tendon to move 2 to 3 cm (1 inch). Mine retracted 10 cm (4 inches). The second significant factor in my case was three months past before my October surgery (L & I). Doctor G. Garcia was assigned my case. We reviewed my case, the MRI images, the X-rays and the options. On surgery day, the "Surgery Team" placed all my fears aside! True professionals! At week 14 post op, my arm has opened to 179 of 180 degrees. Dr. Garcia is now reviewing my other elbow and shoulder. I've been to war for this country four times. I've placed my life and future in the hands of Dr. Grant Garcia and the OSS staff, and happy I did. I would love to have Dr. Garcia as a Doctor in a combat zone. Thank you to all the Doctors and staff at OSS for your time on my knee, hip, elbows and shoulders. OSS has it's now X-ray and MRI machines and surgery suite. A true one stop shop! Kudos to all. Thanks!
~ D. Johnson B
Dr Garcia performed surgery on my knee which had a torn meniscus, wedged in the tibia. From the initial consult to the follow-up appt., Dr Garcia was professional, informative and personable. I was pleasantly surprised how seamless the entire surgery and recovery went. I was comfortably walking in three days! Thank you so much
~ Jodie L
Thank you!!! My bike ride got interrupted by a car and all of a sudden I was at Harborview for the rest of the weekend. Wonderful care and wonderful people, but because of the extent of my injuries I needed considerable followup. We called Dr Peterson and he and Dr Garcia found time to fit me in and schedule a proper surgical repair of my shoulder. All in surprisingly short order. But the best part was that Dr Garcia also looked out for all the other injuries and made sure I was getting fantastic followup with my hand surgeries, nagging neck pain, and all the PT and OT that I would need. It was a bummer he couldn't do anything for my ribs. :) In the midst of this, my son returned from school having dislocated his shoulder multiple times. Dr Garcia took the time to review different possible scenarios for my son and help us consider surgical and non surgical means based on extensive research and data to help him enjoy his favorite sport; skiing. He will eventually need some work done to repair his shoulder, but we are confident that Dr Garcia will give him the best care he could possibly have. We hope 2019 requires fewer doctor visits than 2018, but for those that need help, my wife and I couldn't more strongly recommend Dr Garcia and the entire team at SOC.
~ Scott M
An apple a daydidn't keep us away from medical needs, however, as a family, we are appreciative of the excellent care and collaborative dedication to helping us mend. 2018 has been a busy year- first a few visits with Dr. Reid when Scott broke his ankle skiing, then knee surgery for Kris with Dr. Peterson…and then clavicle and hand repairs with Dr. Garcia and Dr. Weil. Somewhere in that time frame, our son returned from college feeling stressed about a dislocating shoulder, but Dr. Garcia reassured him that there are several options that will help him to continue doing the activities he loves. All along the way we have been treated with care, compassion, and a healthy dose of humor.
~ Scott M
Without a doubt, Dr. Grant Garcia is one of the most highly skilled and most knowledgeable medical professionals practicing in Orthopedics. I highly recommend him and his staff for anyone in need of orthopedic surgery. My partner was recently referred to Dr. Garcia after an initial visit to a local ER for a workplace injury. Upon examining the injury, Dr. Garcia urgently ordered an ultrasound around the injury due to signs of a possible blood-clot. Within 10 minutes, his assistant Robyn informed us that she had already made the appointment and we simply needed to drive straight there as they were expecting us. The results of the ultrasound did reveal a blood-clot; one that was one of the largest that any of the providers had seen. Dr. Garcia's expertise could have possibly saved his life. His spot-on diagnosis was crucial in determining the most effective treatment plan while reducing future risks and complications that could have been deadly. After that, his assistant Robyn has kept in contact to schedule follow-up visits. In addition, she has gone above and beyond expectations by taking the time to ensure that all medical forms are accurately completed and forwarded onto the proper agencies to ensure timely response and insurance claim payments. The process would have been much more difficult and time consuming without her much appreciated assistance. The exceptional level of service provided by Dr. Garcia and his staff is a direct reflection of their commitment to provide the highest quality medical care to each of their patients. Anyone who has the pleasure of being one of his patients can rest-assured that their life is in the best hands under his care.
~ Matt M
Very knowledgeable, helpful, positive, and had great explanations.
~ Daniel W M
I saw Dr. Garcia for a knee issue that seemed to be a torn meniscus. A cortisone shot was tried first which brought relief from the pain. After a few weeks it was clear there was still a problem that the cortisone and rest wasn't resolving. I had an MRI which confirmed the tear and scheduled surgery. All went beautifully. Dr. Garcia did a great job explaining the procedure to myself and my spouse and letting us know what to expect in the following days/weeks. After 7 weeks of recovery and PT I am able to work very gradually toward jogging again.
~ Margaret M
I was seeing a Physical Therapist for some pain in my hip. After a couple of sessions he referred me to Dr. Garcia to rule out a stress fracture. Incredibly, Dr. Garcia was able to see me that same day and get me in for an MRI. When the results came back that afternoon, he took the time to call me as he was heading out of town. The quick diagnosis and care allowed me to start my recovery journey immediately. And, while spending the next six weeks on crutches was less than ideal, Dr. Garcia's approach ensured maximum recovery time. Today, at my follow-up appointment Dr. Garcia patiently and thoughtfully answered my list of questions about preventing future running injuries and a contingency plan should the pain return.
I am very grateful for the connection that my Physical Therapist made and the ease of scheduling and getting in the same day. I joked that I hope to never see him again (crutches and hip injuries are the worst!) but I know that when I need orthopedic physician again, I will be in good hands.
~ Jocelyn D
I believe Dr. Garcia is the most exceptional surgeon I have ever met. As a registered nurse of 14 years, and a receiver of multiple orthopedic surgeries, I cannot say enough good things about this surgeon. He immediately advocated for two MRI's the same day he saw me, he tailored the plan of care to my unique situation as an athlete from out-of-state, and I was out of my elbow surgery within one week of meeting Dr. Garcia for the first time. He also connected me with an excellent Physical Therapist, who immediately improved my non-operative knee injury. Beyond this, he gave me statistical information on the success of the newer, less-extensive surgery that he performed on my elbow. He was respectful, knowledgeable, and efficient. At just a week and a half out of surgery, I am already thrilled with the results and my progress. It is outstandingly abnormal for a surgeon to defy all the average expectations in healthcare to advocate for a person he has never met. Thank you Dr. Grant Garcia!
~ Kathryn E
12 weeks ago I had a posterolateral corner reconstruction along with an ACL reconstruction and meniscus repair. I can't say enough about how wonderful Dr. Garcia has been throughout the process. With my surgery in particular, it would have been easy to miss all the repairs that I needed. He not only did a great job with a complicated surgery, he made sure to explain everything thoroughly. He also made the smallest incisions possible and did a subcuticular suture (under the skin), which I'm extremely grateful for. The recovery and support that I've had is unparalleled. I hope to never have to have surgery again, but if I do, I would definitely go back to Dr. Garcia.
~ Carmin C
Dr. Garcia is a wizard. He reconstructed my ACL and completely repaired my MCL and double meniscus tear in three hours flat. I will say that office visits usually run late, but for results this good, it's well worth the wait.
~ Harvey B