In The News
Dr. Garcia demonstrates his advanced technique for "over the top" rotator cuff repair with a superior capsular reconstruction.
Dr. Garcia covers the Pac-12 Swim Championships. It was a great opportunity help out and take care of these high-level athletes.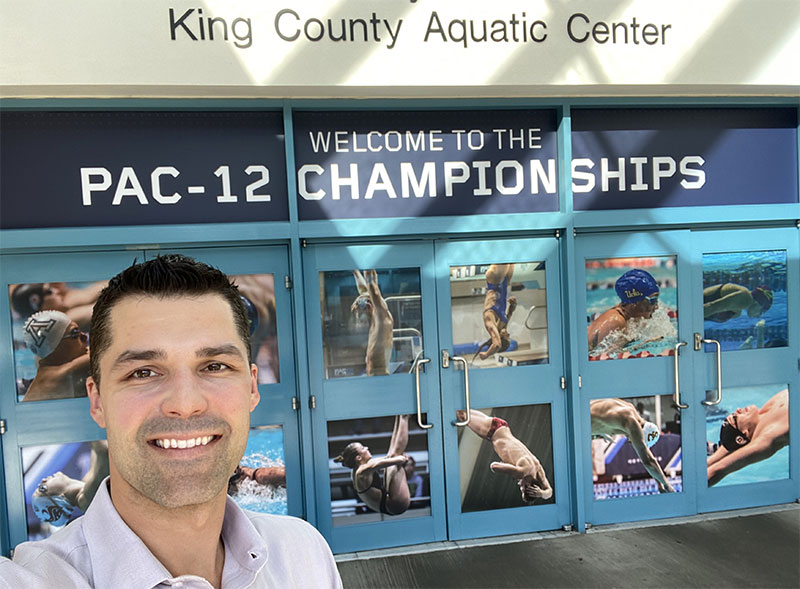 Dr. Garcia demonstrates his elbow arthroscopy technique in a former high level gymnast.
Dr. Garcia demonstrates his arthroscopic surgical technique for anterior labrum "Bankart" repair.
Dr. Garcia demonstrates his inside-out meniscus repair technique for complex tears.
Check Out Dr. Garcia's Patient Testimonial After Complex Shoulder Stabilization Surgery
Dr. Garcia demonstrates his advanced technique for arthroscopic glenoid fracture fixation as well as bony bankart repair. This technique improves healing time and reduces stiffness over the open approach.
Check Out Dr. Garcia's Patient Testimonial Video After Cartilage Transplant
Dr. Garcia demonstrates his innovated technique for partially torn, articular sided rotator cuff repairs. This newer technique reduces trauma to the rotator cuff without hurting healing potential.
Dr. Garcia presents his complex treatment algorithm for treating patients with shoulder instability and labral tear.
Dr. Garcia demonstrates his cutting edge technique for subscapularis repair after stemless total shoulder replacement.
Dr. Garcia demonstrates his arthroscopic technique for knee osteochondritis dissecans (OCD) repair.
Dr. Garcia demonstrates a cartilage transplant surgery. This is an innovative technique to preserve patients' knees with a focal cartilage defect.
Dr. Garcia demonstrates his Superior Capsular Reconstruction technique
My treatment algorithm for Tommy John surgery.
Dr. Garcia demonstrates his innovative technique for arthroscopic meniscus root repairs.
Dr. Garcia speaks on OrthoBiologics, including PRP and Stem Cells, for Swedish hospital.
Dr. Garcia presents his September blog topic: patella dislocations and how we treat them.
Dr. Garcia demonstrates his innovative technique for the Latarjet procedure
Dr. Garcia talks about SLAP tears in his monthly blog post
Superior Capsular Reconstruction
Dr. Garcia will be lecturing to all Washington and Alaska Arthrex reps on Superior Capsular Reconstruction next week. He is honored to be selected for this teaching opportunity and will give an overview of the data on the procedure's success and demonstrate his technique.
Check out Grant Garcia's Facebook live session on shoulder replacements
Dr. Garcia's speaks on sports medicine injuries and concussions in adolescents at Swedish Hospital. Check out his presentation below
Check out Dr. Garcia's video segment on ACL tears and their associated injuries.
Dr. Garcia addresses meniscus and cartilage transplantation his new video segment.
Dr. Garcia talks about shoulder replacements and advanced techniques offered in his practice.
Dr. Garcia addresses hot shoulder topics and cutting edge surgical procedures, check out his video segments
Dr. Garcia featured on KOMO Sports Radio talking about advances in patella tendon repair. Listen to him below talk about the cutting edge repair techniques and how we are getting athletes back faster.
Tune in Sunday Dec 2nd to KOMO Radio (1000am/97.7 FM) at 11:30am PST.
Dr. Garcia will be talking about advances in patella tendon repair in professional athletes and how we are getting our players back faster.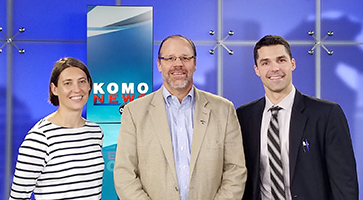 Crossfit Injuries are real and common. Dr. Garcia treats these injuries and offers methods to reduce injury risk.
While its a great workout, patients must be aware that injuries are highest in the first year of starting and if you only do Crossfit occasionally. Proper technique, consistency and supervision are necessary to prevent injuries in this sport.

Stemless Shoulder Arthroplasty (SIMPLICITI) for All Ages, Faster OR time, less blood loss, decreased infection rate
Dr. Garcia performs this surgery and is one of the few surgeons in the Seattle area to offer this. This bone-sparing system has decreased intra-operative blood loss, OR time, and infection rate. Patients implanted with SIMPLICITI showed improvement in both pain reduction and activity levels.
See link for more information on this surgical procedure: www.simpliciti-shoulder.com

Ski and Snowboard Injury Prevention Program
Ski and Snowboard Season is coming soon. Check out this fantastic training program (Alpine Training Project) to prevent injury and get you ready for the slopes!
Know more

Dr. Garcia covers Skate for America, helping care for Team USA Figure Skating. Great job to all contestants, with numerous Olympians from around the world participating, it was an incredible event to cover.
Personalized blood flow Restriction rehabilitation?
Personalized Blood Flow Restriction (PBFR) training has become a novel training method for these individuals to obtain similar gains as high intensity training (HIT) utilizing significantly lower loads. BFR utilizes a specialized tourniquet system to reduce vascular inflow and completely occlude venous outflow in the limb.
Blood Flow Restriction Training After Knee Arthroscopy: A Randomized Controlled Pilot Study
Introduction:: Quadriceps strength after arthroscopic knee procedures is frequently diminished several years postoperation. Blood flow restriction (BFR) training uses partial venous occlusion while performing submaximal exercise to induce muscle hypertrophy and strength improvements. The purpose of this study was to evaluate BFR as a postoperative therapeutic intervention after knee arthroscopy.
Personalized Blood Flow Restriction Therapy: How, When and Where Can It Accelerate Rehabilitation After Surgery?
Abstract:Personalized (based on a percentage of a patient's limb occlusion pressure) blood flow restriction is emerging as a potential advancement in orthopaedic surgery. Safe application of the technology requires the use of medical devices capable of customizing the pressures applied to individual patients. In those circumstances, it is a low risk and noninvasive technique. By limiting muscle atrophy and aiding in the recovery of strength and function, it has the potential to significantly reduce the morbidity from limb trauma and surgery, and aid in achieving a substantially earlier return to full activity.
Blood Flow Restriction, which is a treatment technique that combines low load resistance training with heavy compression of the involved extremity, allowing for amazing changes in muscle strength and loading capacity. Dr. Garcia tried it out, great option for rehabbing patients.
ARM- Blood Flow Restriction
Leg - Blood Flow Restriction
Defining Platelet-Rich Plasma Usage by Team Physicians in Elite Athletes
Background: The indications for the use of platelet-rich plasma (PRP) are vaguely defined despite the frequency of its use as a treatment for athletes. While select studies have advocated for its efficacy, the majority of orthopaedic research conducted on the topic has been equivocal.
Know more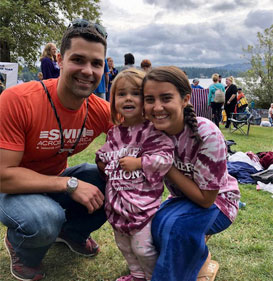 Dr. Grant Garcia provides medical coverage for Swim Across America. Great turnout and congratulations to all those swimmers raising money for a good cause!
Stem Cell Therapy for Articular Cartilage Repair: Review of the Entity of Cell Populations Used and the Result of the Clinical Application of Each Entity
BACKGROUND: Following successful preclinical studies, stem cell therapy is emerging as a candidate for the treatment of articular cartilage lesions. Because stem cell therapy for cartilage repair in humans is at an early phase...
Know more
Return to Play Among Elite Basketball Players After OsteochondralAllograft Transplantation of Full-Thickness Cartilage Lesions.
Background: Osteochondral allograft transplantation (OCA) is a recognized option for full-thickness articular cartilage defects of the knee, especially in the setting of large lesions or those involving the subchondral bone.
Know more
Comparative Matched-Pair Analysis of Open-Wedge High Tibial Osteotomy With Versus Without an Injection of Adipose-Derived Mesenchymal Stem Cells for Varus Knee Osteoarthritis: Clinical and Second-Look Arthroscopic Results
BACKGROUND: High tibial osteotomy (HTO) is reported to be an effective treatment for varus knee osteoarthritis (OA) by redistributing the load line within the knee joint.
Know more
Borderline Glenoid Bone Defect in Anterior Shoulder Instability: Latarjet Procedure Versus Bankart Repair
BACKGROUND: The optimal procedure for anterior shoulder instability with a borderline (15%-20%) bone defect on the anterior rim of the glenoid is still controversial.
Know more
Clinical Outcomes and Return to Sport After Arthroscopic Anterior, Posterior, and Combined Shoulder Stabilization.
Background: Glenohumeral instability is a common abnormality, especially among athletes. Previous studies have evaluated outcomes after arthroscopic stabilization in patients with anterior or posterior shoulder instability...
Know more
Double-Row Arthroscopic Subscapularis Repair: A Surgical Technique
The subscapularis is the strongest rotator cuff muscle in the shoulder. Until recently, most surgical repairs were performed through an open approach. Furthermore, the reporting of arthroscopic repair techniques and outcomes is fairly limited. This is likely due to the difficulty involved in all-arthroscopic repairs and the relative...
Know more
Return to Work After Anatomic Total Shoulder Arthroplasty for Patients 55 Years and Younger at Average 5-Year Follow-up
As the number of anatomic total shoulder arthroplasties performed on younger patients continues to grow, return to work after surgery becomes increasingly important. The purpose of this study was to evaluate the ability of anatomic total shoulder arthroplasty to return patients 55 years or younger to work postoperatively...
Know more
Orthopedics Today Commentary – Healio
Orthopedics Today, May 2018. Anthony A. Romeo, MD; Grant H. Garcia, MD. As the population ages, the number of joint replacement surgeries has increased...
Know more
Sports and joint replacement: Patient perspective should be our priority
Jun 5, 2018 – Anthony A. Romeo MD, Grant H. Garcia MD, Healio Orthopedics Today May … However, recent studies from Garcia and colleagues found both …
Know more
Malnourished patients had increased risk for short-term complications after TSA
Using the American College of Surgeons National Surgical Quality Improvement Program database, Garcia and his colleagues identified 4,655 patients who underwent total shoulder arthroplasty (TSA) from 2005 to 2013.
Know more
Study reports on return to work, play after shoulder hemiarthroplasty
Grant H. Garcia, MD Grant H. Garcia. Garcia and his colleagues retrospectively reviewed 79 patients who underwent shoulder hemiarthroplasty. Patients were...
Know more