Glenoid Bone Deficiency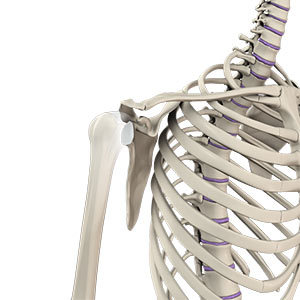 Shoulder instability secondary to bony glenoid deficiency is increasingly being recognized as a common cause for recurrence and poor outcomes. Glenoid bone deficiency may result from acute trauma to the anterior glenoid rim or from repeated contact with the humeral head during subsequent dislocation episodes. If glenoid bone loss is suspected in a patient with recurrent shoulder instability, a careful preoperative evaluation including history, physical examination, imaging studies, and arthroscopic assessment is necessary to accurately diagnose and quantify the extent of the deficiency. Treatment is guided by the amount of bone loss and patient factors such as activity level, expectations, and level of sports participation. In general, nonsurgical treatment—which consists of immobilization followed by progressive range-of-motion exercises and shoulder strengthening—is best suited for low-demand patients, patients with significant comorbidities, or those with smaller defects (<15% of glenoid surface area).
Arthroscopic or open capsulolabral repair is recommended for patients with less than 15% glenoid bone loss. For patients with anterior glenoid bone loss between 15% and 25%, a variety of treatments are available, including both open and arthroscopic soft-tissue reconstruction and open bone-block procedures (Latarjet or Bristow procedure). As anteroinferior glenoid deficiency approaches 25% to 30% or more, open glenoid reconstruction with bony augmentation is required to restore stability.